Documentation
Basics
Forms
Shortcuts and URLs
Modules
Miscellaneous
Other
Shortcuts Setup
Embedded URL Setup
Embedded URL Setup
In order to set up an embedded URL or create a mini-website you must follow two simple steps.
1. Change the Nameservers for your domain.
To point your domain to a nameserver, you will need to access your domain information at your domain registrar. You can easily change the nameservers from the control panel that manages the settings for your domain(s). Their domain management interface should allow you to choose custom nameservers. In the Nameservers list you must enter values using the following rules:

For .com TLDs:
nspool0.nameserverpool.com
nspool1.nameserverpool.com
nspool2.nameserverpool.com
nspool3.nameserverpool.com
nspool4.nameserverpool.com

For .de TLDs:
nspool0.nameserverpool.de
nspool1.nameserverpool.de
nspool2.nameserverpool.de
nspool3.nameserverpool.de

For all other TLDs:
nspool0.nameserverpool.net
nspool1.nameserverpool.net
nspool2.nameserverpool.net
nspool3.nameserverpool.net
nspool4.nameserverpool.net

TLD (Top Level Domain) id the last (right-hand) part of a complete Domain Name. For example, in the domain name www.kepower.com ".com" is the Top Level Domain.
For information about changing the nameservers for your goDaddy domains click here
2. Configure your domain in keAdmin.
Domain information can be found by clicking General Settings -> Personalization and then Shortcuts and Domains. Add a new domain by pressing the Add button at the bottom of the screen. You can set up a domain for a specific service/content, partner, product, user or eGroup. Simply enter your domain and select a service. If you want to set up your domain for a partner, product, user or eGroup select that value from the Owner Type dropdown and then select your partner/product/user/eGroup that you want your domain to point to.
Setting up a domain for a partner: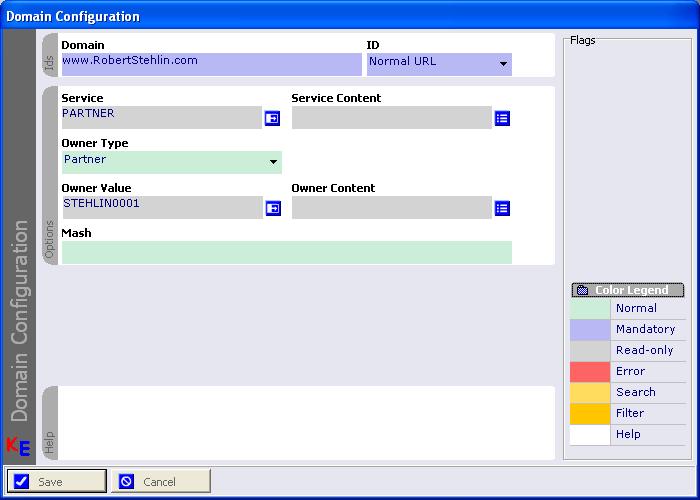 3. Contact ke Solutions Customer support.
Click here to send the request for new domain to ke Solutions Customer support team.