Overview
The Rating for Business module provides an easy way for your audience to provide online ratings and reviews without technical expertise.
Registered or unregistered Users can quickly rate and/or review businesses. Ratings can be offered based on multiple criteria. Results are compiled in real-time and displayed on the listing page.
Providing ratings and reviews not only increases audience participation but also provides useful information and feedback to to site's audience.
Benefits
Portal software return on investment is maximized by minimizing content administration and site operations costs while increasing revenues.
Professionally publishes a variety of ratings and/or reviews quickly and easily
Full-featured and ready to go today - right "off-the-shelf"
Low Total Cost of Ownership - Low start up & training costs with continuing low operating costs
Increases site traffic, audience participation and value to users
Revenue Opportunities
The Rating System for Business can generate a number of revenue streams.
Sell Sponsorships that prominently feature the sponsor in page headers
Restrict viewing of ratings and reviews to paid subscribers
Features
The Rating System for Business provides flexible, easy-to-use content management focused on minimizing administrator involvement and cost.
Supports ratings, reviews, and combinations thereof for a given directory listing
Supports multiple ratings criteria
Compiles results in real-time that can be displayed both as text and graphically
Restrict viewing to authorized users/subscribers only
Site visitors can email or print page in one click
Screenshots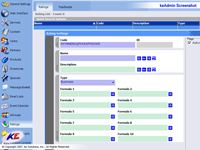 Click here for Business Rating System documentation.